Stamped Concrete Patios
Stamped concrete patios in Kansas City add shape, color, texture, and a splash of fun to your outdoor living area. 

Gray Stamped Concrete Patios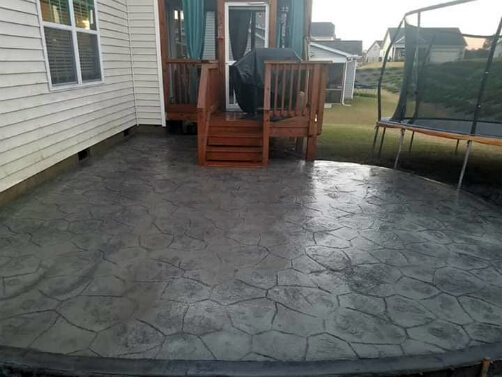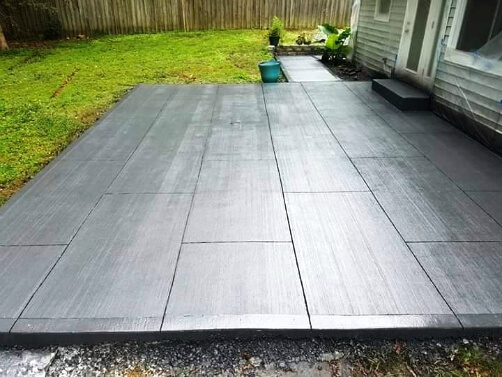 Fiesta-Colored Stamped Concrete Patios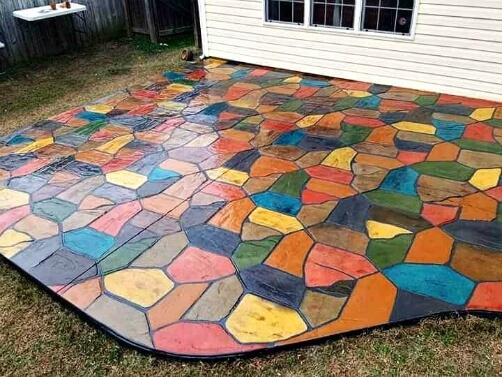 With Its Bright, Fiesta Colors, This Hand-colored, Stamped Concrete Patio with Contrasting Vertical Edging Makes Quite a Splash!
Benefits of Stamped Concrete Patios vs Individual Pavers
Durability – Properly maintained, concrete is very durable


Less Maintenance – Due to its one-piece, poured construction, stamped concrete requires less maintenance than individual pavers.  Weeds and grass cannot grow between sections, as they do with individual paving stones.
 

Safety – Stamped concrete remains flat. Pavers tend to settle.  This settling results in a non-uniform, non-flat walking surface that can be a trip-hazard.


Less Labor – Less initial construction labor is needed to pour and stamp a surface pattern vs. setting each paver individually, in place.


Easier Cleanup – Stamped concrete offers easier cleanup of accidental mishaps such as broken glass, and pets who "couldn't wait".


Visual Eye Appeal – Stamped concrete accents the natural colors between your home and your backyard landscape.  It makes a home more appealing to future buyers, as well as adding to your family's backyard enjoyment.


---
Our Kansas City, KS Service Area
---
If you are looking for  "Concrete contractors near me", here is the list of cities we service. 


Concrete Contractors Kansas City KS - Serving the Kansas Cities of:
Basehor, Bonner Springs, Edwardsville, Fairmount, Kansas City, KS, Lake Quivira, Lansing, Leavenworth, Maltby, Mission, Overland Park, Piper, Roeland Park, Shawnee, Stone, and Tonganoxie, Kansas.

Serving the Kansas Counties of:
Johnson, Leavenworth, Wyandotte
Concrete Contractors Kansas City KS - Serving the Missouri Cities of:
Farley, Ferrelview, Hampton, Parkville, Platte Woods, Riverside, Weatherby Lake, Missouri.
Serving the Missouri Counties of:
Platte