Concrete Driveways
Concrete Driveways - Replacement
Diamond Cut Concrete Driveway
Replacing concrete driveways can update the look of your home.
Concrete Driveways - Additions
Add an Extra Concrete Parking Space
Extend Your Current Driveway For Additional Parking
When you widen your current driveway, you will be able to park an extra vehicle off the street, or add a basketball hoop area for the kids.
Widen a Narrow Driveway
Stamped and Colored Concrete Walkway Addition to a Concrete Driveway
This stamped and colored driveway addition widens a narrow driveway.  The eye-catching, textured walkway area allows people more room to get out of their vehicles without walking on the grass or step in the mud when it rains. 

Concrete driveways today, have a lot of color and texture options.  In recent years, the concrete industry has developed many innovative decorative concrete products.  Although most driveways are still just a plain gray concrete, they don't need to be. 
Decorative driveways can match your home's exterior colors, and, be nearly any color you choose. 

For lack of more descriptive words, many people refer to these decorative concrete driveways as painted driveways, painted concrete, or colored cement.
To help you and your concrete contractor understand exactly what you want, here are the meanings of these decorative concrete terms:

Decorative Concrete Terminology

Painted Concrete:  While it is possible to paint concrete with regular acrylic or oil base paints, purchased from a big box store, regular paints do not adhere (bite) into the pores of the concrete very well.  Due to expansion and contraction from weather conditions such as hot sun, ice and snow, or chemical interactions such as fertilizer, ice melt or salt, these acrylic and oil base paints do not last very long on concrete.  Painted concrete is a short-term, top coat.
Colored Cement:  Colored "cement" is actually colored concrete.  Concrete is made up of three basic components:
Water
Aggregate (rock, sand, or gravel)
Portland cement

Cement is only one of the 3 ingredients which make concrete.  When cement is mixed with water and aggregates, it acts as a binding agent to make concrete. 

Colored Concrete:  Colored concrete begins as plain, gray concrete.  It is colored in the concrete mixer with the use of color additives.  It is not a topcoat.  No matter how thick it is poured, it is one solid color all the way through, from top to bottom.
Stamped Concrete:  Stamped concrete is achieved with the use of (customer-chosen) patterned stamping mats after the concrete has been poured and smoothed flat. These patterns provide the finished look and texture of the stamped concrete.

Stained Concrete:  There are two major types of concrete stains.


Reactive stains, also known as acid stains,

create a chemical reaction when applied to the concrete's surface.  Reactive stains contain metallic salts which react with the lime content and existing minerals in the concrete.  Reactive stains form a permanent bond with the concrete and do not chip or peel. 




Non-reactive stains are water-based acrylic stains.  They do not require a chemical reaction.  A non-reactive stain penetrates the top surface of the concrete and deposits pigment particles into the concrete's open pores.  Water-based (non-reactive) stains usually provide more opaque colors than acid stain colors.  Water-based stains are not as thick as acid-based stains, and have less scratch resistance. 



Concrete Overlays:  Concrete overlay products can be used to resurface an existing slab of concrete such as driveways, patios, pool decks, etc.  If your existing concrete is structurally sound, this may be a good alternative option instead of tearing it all out and replacing it.  Your concrete contractor will need to physically inspect your slab in order to determine whether a concrete overlay is feasible.      

Today's concrete driveways have evolved to a whole new level of beauty and functionality. 

With the advent of so many new concrete technologies, your driveway no longer needs to look like just a large, dull gray slab.  You may even choose to color-coordinate your decorative concrete driveway with a matching sidewalk and front porch!  It is up to you!

Here are some of the new technologically improved materials that we use for both home and business concrete flatwork.


State of the Art Concrete Technologies


Fiber mesh concrete reinforcement


Concrete overlay materials


A wide array of concrete stain colors


A large selection of concrete stamping patterns


Slip resistant additives


Improved chemical compounds:  water-based stains, acid-based stains, dyes, and sealants



Choose the Best Raleigh Concrete Driveways Contractor
Click the drone video below, to see one of our concrete driveways which we designed, poured, stamped, stained, and sealed for a customer.

We are very honored to have the chance to earn your business. 
If you would like to have a free estimate for your concrete driveway improvement project, fill in the form below, and we will contact you to discuss how you envision your new driveway.
Our Raleigh NC Triangle Service Area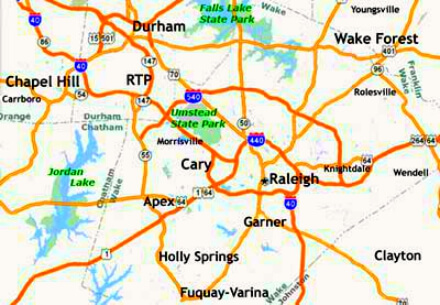 Raleigh, North Carolina Triangle Service Area Map
---
---
If you are looking for  "Concrete contractors near me", here is the list of cities we service. 


Concrete Contractors Raleigh NC - Serving the North Carolina Cities of:
Apex, Blacknel, Carr, Cary, Clayton, Chapel Hill, Durham, Fuquay Varina, Garner, Holly Springs, Knightdale, Leesville, Lowes Grove, Millbrook, Mooresville, New Hill, Panther Branch, Raleigh, Rocky Mount, Rolesville, Smithfield, Swift Creek, Wake Forest, Wendell, Willow Spring, Wilson, and Zebulon, North Carolina

Serving the North Carolina Counties of:
Durham, Johnston, Nash, Wake, and Wilson