About the Owner of
Decorative Concrete Art
Creating decorative concrete art is not just a business for Shane Lee.  He is passionate about his work.
During high school, Shane started a pressure washing and painting business.  He pressure washed concrete driveways, patios, sidewalks, as well as wood fences, sheds, and house siding. 
From this experience, he learned how important surface preparation is to any resurfacing job, whether it is painting or decorative concrete. 

Concrete Surface Preparation
The first step of every decorative concrete project (for both new or existing concrete) is cleaning out the dirt, mold, and mildew from the concrete's pores. 
This allows the concrete surface to be able to accept the colorful decorative concrete and hardscape products, and sealers.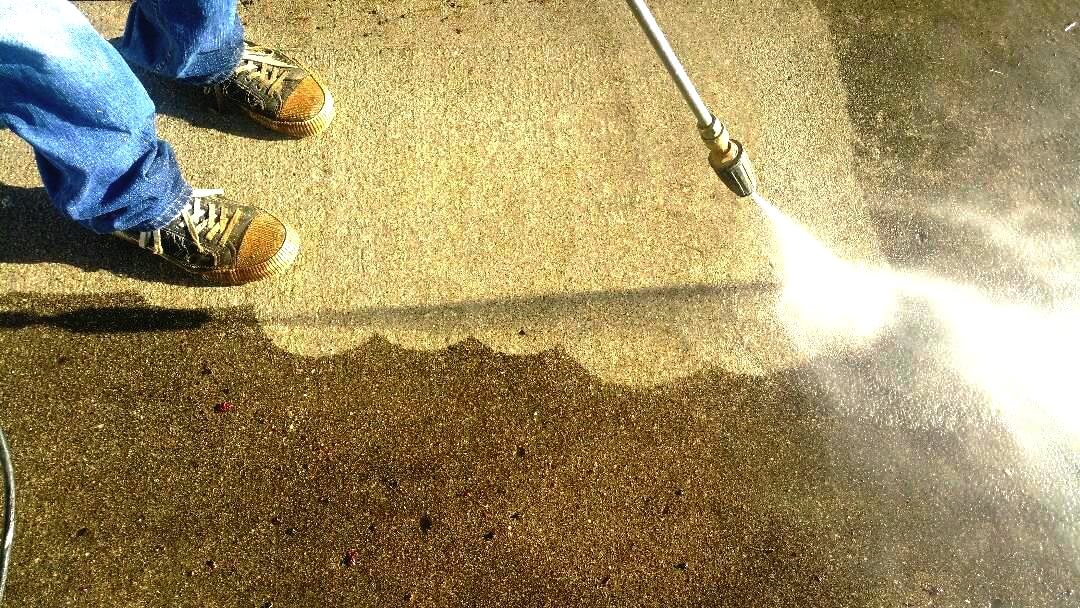 Decorative Concrete Preparation - Powerwashing a Concrete Driveway to Remove Dirt, Mildew, and Mold From the Concrete's Surface
Experienced Concrete Contractor
After 15 years of working for a concrete company in Kansas City which poured both commercial and residential concrete flatwork, Shane decided he wanted to take concrete to the next level…Decorative Concrete.
New Commercial Concrete Driveway Being Smoothed With a Bullfloat Before Finish Work Is Performed
DECORATIVE CONCRETE ART
Today...Decorative Concrete Art Is Located in Kansas City, Kansas.
Decorative Concrete Art creates colorful outdoor decorative concrete hardscapes such as patios, driveways, sidewalks, new concrete pool decks and concrete pool deck overlays, using a variety of acid and water-reducible stains, dyes, and sealants.

The photos below, are some of our completed projects.  
Decorative Concrete Patios
The eye-catching, bright, earthy colors of this decorative concrete stained patio extend the homeowner's outdoor living space, making it the perfect place to entertain friends and family.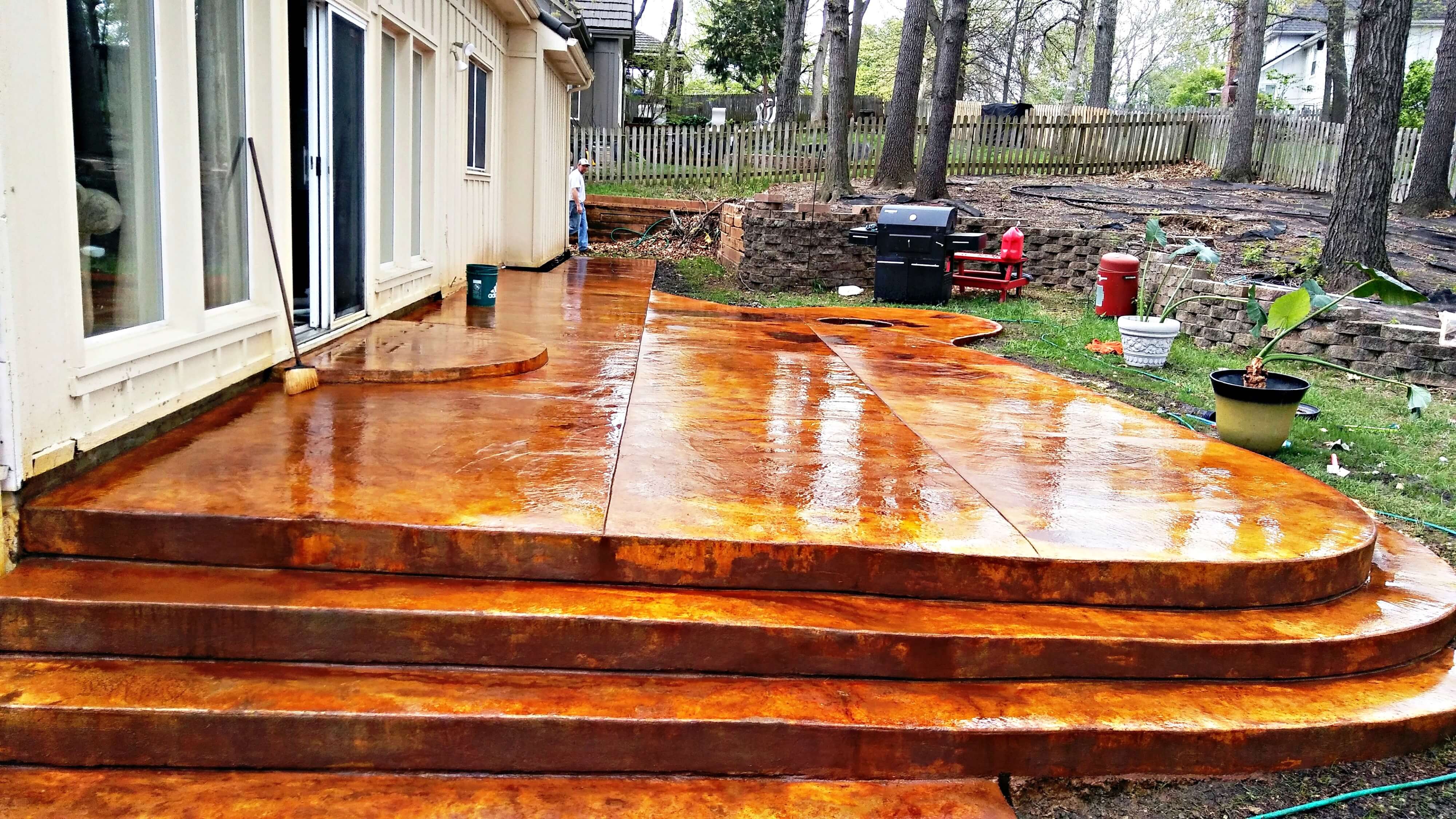 The Earthtone Colors of This Eye-Catching Decorative Concrete Stained Patio Blend the Home With The Beauty of the Natural Backyard Environment.
Driveways
Sealed driveways are easier to keep clean, and more impervious to harsh chemicals such as fertilizers, oils, salts and staining.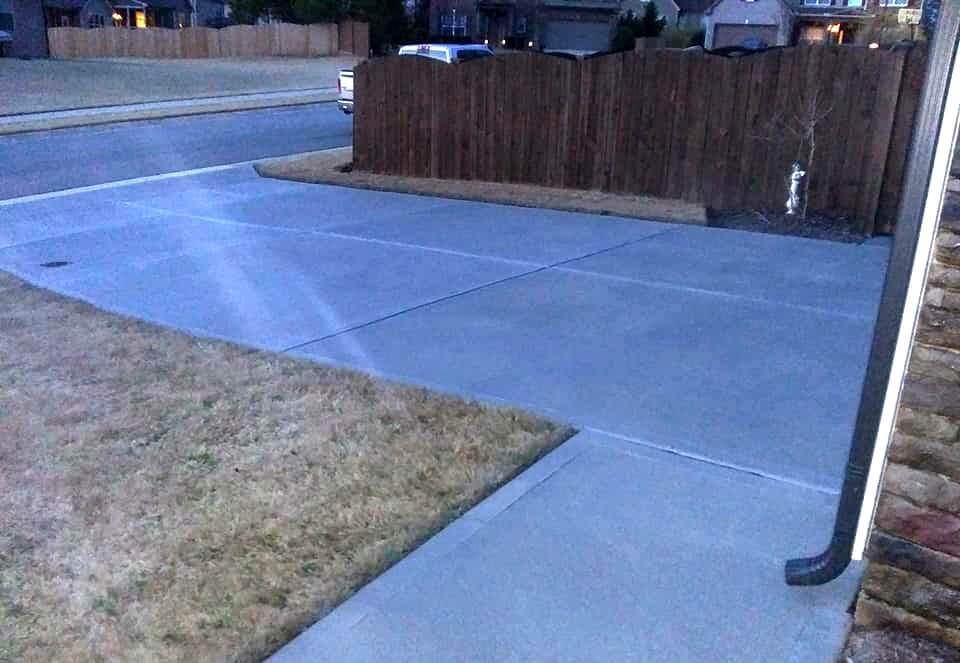 Plain, Gray Concrete Driveway After Being Clear Sealed
Pool Decks
Concrete pool deck overlays to existing pool decks, such as the one in the photo, below, are a cost-effective alternative to needing to tear-out the existing concrete and replace it.   

Decorative Concrete Stained Porch and Sidewalk
Sealed concrete is easier to keep clean than plain, gray unsealed concrete.  A slip-resistant additive can be used beneath the final sealant to reduce falls. 

Hardscape Natural Stone
Sealing existing natural stone patios, walkways, retaining walls, and exterior natural stone facings highlights the depth of beauty of the mineralization within the stone.
Sealing Existing Natural Hardscape Stone Brings Out the Stone's Natural Mineral Highlights, and Adds Beauty and Curb Appeal - Photo shows Before and After
Decorative Concrete Services
1.  New Concrete Pours - with or without colored stains, dyes or stamping
2.  Refinish Existing Concrete - color stain, or refresh existing stain, and seal
         We Design and Create:

New Pool Decks and Pool Deck Overlays
Driveways and Driveway Additions
Patios
Porches
Sidewalks
Firepits
Hardscape Stone -

clear-seal, or color and seal existing stone and mortar

Concrete Footings and Pads for Pergolas, Gazebos, Pavillions, and Pool Houses
---
Testimonial

Super Star Cycle Center, 13810 E. US Hwy 40, Independence, Missouri

 "Decorative Concrete Art is the place to call if you want a quality job at a fair price.  Not only does the owner (Shane) have an outstanding eye and ability for the art side of the project but he also has the experience and know how to make sure that all of the details and the quality of the work itself is completed at the highest standards. 

We had these guys do our 8000 square foot motorcycle show room.........and not only did the appearance come out just as we wanted, but also the quality of the work and materials were also above par.  Shane is easy to work with and will provide you with a top notch job...........I highly recommend Decorative Concrete Art."

Shannon
Superstar Cycle Center
Before
After
---
---
We are happy to answer your questions about your upcoming project in the Kansas City area.  
Simply fill in the form below, and we will contact you to discuss it.  
---
---
---
Our Kansas City, KS Service Area
---
If you are looking for  "Concrete contractors near me", here is the list of cities we service. 


Concrete Contractors Kansas City KS - Serving the Kansas Cities of:
Basehor, Bonner Springs, Edwardsville, Fairmount, Kansas City, KS, Lake Quivira, Lansing, Leavenworth, Maltby, Mission, Overland Park, Piper, Roeland Park, Shawnee, Stone, and Tonganoxie, Kansas.

Serving the Kansas Counties of:
Johnson, Leavenworth, Wyandotte
Concrete Contractors Kansas City KS - Serving the Missouri Cities of:
Farley, Ferrelview, Hampton, Parkville, Platte Woods, Riverside, Weatherby Lake, Missouri.
Serving the Missouri Counties of:
Platte